no account? click here.
already a member?
sign in
" "This attractive blend of 45% Merlot, 45% Cabernet Sauvignon, and 10% Petit Verdot reveals notes of tobacco leaf, cedarwood, black currants, and spice box in its medium-bodied, soft, friendly personality." Robert Parker "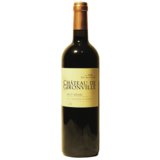 Export to PDF
food & wine matching... Roast Beef / Steak, Roast Lamb & Game & Venison
Red
Save £22.20 a case
Medium Bodied
Wine Type... Red WineVintage... 2008Style... Medium Bodied RedsCountry... FranceRegion... BordeauxSub Region... Haut-MédocGrower Name... Château de GironvilleGrape Variety... Cabernet SauvignonABV... 13%Closure... Natural Cork
Château de Gironville
Acquired by Vincent Mulliez in 2004, Château de Gironville is a Cru Bourgeois in the Haut-Médoc appellation with a history dating back to the 19th Century. Cited in the guide to Bordeaux and its wines in 1868, it has enjoyed a high reputation which has never diminished.Ideally situated in one of the most beautiful gravel outcrops in Macau, the vineyards benefit from their proximity to the Atlantic and theGironde. The vineyards have a typical composition of 45% Merlot, 45% Cabernet Sauvignon and 10% Petit Verdot. This high proportion of Cabernet Sauvignon and Merlot gives a singularity and personality to the wines.Following this great tradition of quality, Château de Gironville continues to strive towards perfection. Destemming, slow extraction and the use of 20% new barriques for maturation add to the power and richness of the wine, which is delicately balanced between the classic and the modern.
Bordeaux
Bordeaux is a region in south-west France bisected by the river Gironde Estuary, producing high quality red, white and sweet wines. The region can be split into two distinct styles on different sides of the river, 'left bank' and 'right bank'. On the left bank the vineyards are typically free-draining gravel soils, while the left bank has a higher proportion of clay. Bordeaux as a whole enjoys a continental-maritime climate.
Red wines are typically a blend of grape varieties. Wines from the left bank of the river are usually the traditional 'Bordeaux Blend' of Cabernet Sauvignon, Merlot and Cabernet Franc, while those from the right bank are typically Merlot and Cabernet Franc.
Dry and sweet white wines are made from a blend of Semillon and Sauvignon Blanc, although some dry whites are produced using 100% Sauvignon Blanc.
Haut-Médoc
The Haut-Médoc, is a sub-region of Bordeaux which includes the world-famous communes of Margaux, Pauillac, St-Estephe and St-Julien, as well as Listrac and Moulis. Red Wines made outside of the specific boundaries of these communes qualify for the status Appellation Haut-Médoc Controlée.
Cabernet Sauvignon
Cabernet Sauvignon is a black grape variety which produces red wines of high quality in many wine-producing regions world-wide. Its hallmark characteristics are black fruit flavours, particularly blackcurrant, and often a menthol or eucalyptus secondary note. It is a hardy grape able to grow in both hot and cooler climates alike.
Cabernet Sauvignon's traditional home is Bordeaux in South-West France, where it is commonly blended with Merlot and Cabernet Franc to produce what is known as a 'Bordeaux Blend'. Such blends are increasingly popular in other parts of the wine-making world such as South Africa, Australia and South America. It is also found as a varietal wine, particularly in New World regions such as Coonawarra in Australia or Napa Valley, California.
" Château Bernadotte "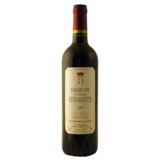 food & wine matching... Roast Lamb, Cheese - Soft & Cheese - Hard
Red
Save £27.00 a case
Medium Bodied
Wine Type... Red WineVintage... 2005Style... Medium Bodied RedsCountry... FranceRegion... BordeauxSub Region... Haut-MédocGrower Name... Château BernadotteGrape Variety... Cabernet Sauvignon, MerlotABV... 13.5%Closure... Natural CorkComes in Original Wooden Case... Yes