no account? click here.
already a member?
sign in
" "Light to mid gold. Light but clean and ripe pear juice nose. Very sweet and already a little bit hot. Some spicy gingerbread quality. Very forward for Yquem." 18/20, Jancis Robinson MW "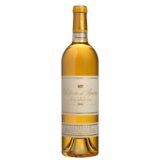 Export to PDF
food & wine matching... Puddings - Fruit, Cheese - Blue & Fois Gras
Pudding
Sweet Rich & Complex
Wine Type... Pudding WineVintage... 2003Style... Rich & Complex WhitesCountry... FranceRegion... BordeauxSub Region... Sauternes-BarsacGrower Name... Château d'YquemGrape Variety... Sauvignon Blanc, SémillonABV... 14%Closure... Natural Cork
Château d'Yquem
Alexandre de Lur Saluces inherited Château d?Yquem in1968. The young count did not have an easy time at first. He had to deal with a series of bad vintages, a profound crisis in the Bordeaux wine trade, and an impressively high inheritance tax that threatened d'Yquem's survival.The estate was saved thanks to rigorous management and the excellent 1975 vintage,on the heels of three disastrous ones. A better series of vintages in the 1980s helped a great deal and enabled new investments to be made.The estate was modernised and missing vines were replaced even if there were not enough funds to replant entire plots. In fifteen years, production slowly increased as did quality and technical prowess.
Count Alexandre de Lur Saluces perpetuated his family's tradition as manager of Château d'Yquem for more than 35 years. His efforts were guided by a single philosophy: to preserve and defend a heritage more than 4 centuries old.Thanks to his determination, this great wine's reputation reached new heights.
In May 2004, LVMH (Moët Hennessy. Louis Vuitton), main shareholders of Château d'Yquem since 1999, asked Pierre Lurton to take over management of the estate. Member of a famous Bordeaux wine family, this passionate winemaker and viticulturalist, who is also in charge of Château Cheval Blanc and Cheval des Andes in Argentina, has all the necessary qualities to maintain Yquem's legendary reputation, with a respect for tradition and an openness to modernity.
Bordeaux
Bordeaux is a region in south-west France bisected by the river Gironde Estuary, producing high quality red, white and sweet wines. The region can be split into two distinct styles on different sides of the river, 'left bank' and 'right bank'. On the left bank the vineyards are typically free-draining gravel soils, while the left bank has a higher proportion of clay. Bordeaux as a whole enjoys a continental-maritime climate.
Red wines are typically a blend of grape varieties. Wines from the left bank of the river are usually the traditional 'Bordeaux Blend' of Cabernet Sauvignon, Merlot and Cabernet Franc, while those from the right bank are typically Merlot and Cabernet Franc.
Dry and sweet white wines are made from a blend of Semillon and Sauvignon Blanc, although some dry whites are produced using 100% Sauvignon Blanc.
Sauvignon Blanc
Sauvignon Blanc is a high quality white grape whose spiritual home is France, and more specifically the Loire Valley, where it produces crisp, acidic wines with green and citrus fruit flavours, and a hallmark streak of minerality in the best examples.
In more recent years, the variety has been adopted by New Zealand as their signature white variety, showing concentrated gooseberry, citrus and stone fruit flavours. New Zealand Sauvignon, especially that from the Marlborough region, has become an 'instant classic' and is a must on all good wine lists and home cellars. The variety has also come to prominence in Chile and South Africa and is also a key ingredient in many of the great sweet wines of the world.
" Château Rieussec "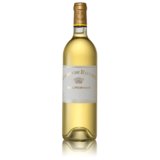 food & wine matching... Puddings - Fruit, Fois Gras & Cheese - Blue
Pudding
Save £37.80 a case
Sweet Rich & Complex
Wine Type... Pudding WineVintage... 2007Style... Rich & Complex WhitesCountry... FranceRegion... BordeauxSub Region... Sauternes-BarsacGrower Name... Château RieussecGrape Variety... Sauvignon Blanc, SémillonABV... 13.5%Closure... Natural Cork