no account? click here.
already a member?
sign in
" Sensational, explosively refreshing and cleansing Chenin by tip-top producer Simonsig, it's perfect to quaff on its own and has the vibrancy and freshness to be enjoyed with fish dishes and salads. "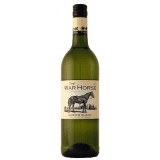 Export to PDF
food & wine matching... Fish & Shellfish, Canapés & Salads
Save £10.80 a case
Vintage... 2011Style... Crisp, Dry WhitesCountry... South AfricaRegion... StellenboschGrape Variety... Chenin BlancABV... 14.5%Closure... Screw Cap
This is such a very versatile white and winner of John Platter's 'Best Quaffing White Wine of South Africa' in previous vintages. South Africa has a reputation for top quality Chenin at affordable prices, and it's because of wines exactly like The War Horse.
What's in a name? The story of 'The War Horse'...
During the Anglo-Boer war, 1899 to 1902, horses were imported to Cape Town from India and Argentina by the then British colony to assist their war effort.
Due to their arduous journey, the horses first had to recuperate and acclimatise before they were sent to the front. This horse convalescent farm, known as the Koelenhof Remount Camp, was situated on the farms Koelenhof, Nooitgedacht and Geluksoord just north of Stellenbosch. Once suitably recovered, the horses were driven to the town and sent north by train from the Stellenbosch station.
Some 100 years later, this very land is the source of The War Horse Chenin Blanc vines. The terroir and cool Stellenbosch climate provide the perfect conditions to produce this fine Chenin Blanc with its aromas of sun-ripened apples and pears. Tactile, subtle sweet dried apricots and honey are perfectly balanced by an elegant mineral finish.
Simonsig Estate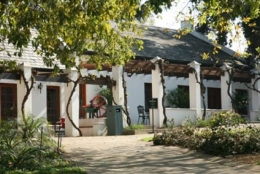 This wine from the excellent Simonsig estate is a perfect example of Chenin Blanc, with the crunch and floral brightness of the nose suffused with honey, nectarine and a creamy weight of oatmeally depth. On the palate the incisive lemon zest and apple skin tang powers through the broad, expansive texture of the wine. There's a fruit salad explosion of flavour, with just a fleeting hint of sweetness, before a long, powerful and dry finish. See the video for more information, maps and food matching suggestions.
Simonsig Estate upholds the legendary status of pioneering wine excellence shaped by the Malan dynasty's devotion to quality and innovative winemaking. Named after its dramatic views of the Simonsberg Mountain, the estate is ideally situated in Stellenbosch, South Africa's premier wine region, 45 km east of Cape Town. Here the cool maritime Mediterranean climate and quintessential terroir flawlessly intertwine to create world class wines.
Since French Huguenot Jacques Malan first set foot in the Cape Winelands in 1688, the knowledge imparted over more than ten generations has equipped the Malan family to excel as one of the leading private producers of estate wines in South Africa. The late Frans Malan, beloved patriarch of the Malan Family and pioneer of the South African wine industry, was not only a craftsman of superior wines, but introduced numerous Simonsig "firsts" leaving an indelible legacy in the Cape Winelands.
From humble beginnings on the De Hoop farm in 1953 and inspired by Frans Malan's foresight and quest for unsurpassed quality, Simonsig has grown into a successful family business with a proud heritage. His groundbreaking innovations include South Africa's first Methode Cap Classique, Kaapse Vonkel more than 30 years ago - bottle fermented sparkling wine made in the style of French champagne. Frans Malan was also one of the three founders of the famous Stellenbosch Wine Route, the first of its kind in Africa, introducing local cellars to wine lovers and tourists from all over the world since 1971.
Stellenbosch
Stellenbosch is arguably the most important wine-producing region in the Republic of South Africa, and home to the country's only University offering professional degrees in both Oenology and Viticulture.
Situated to the east and just inland from Cape Town, the region produces many of the country's finest red wines from a range of varieties including Cabernet Sauvignon, Pinotage, Merlot and Shiraz, while white wines produced from Chenin Blanc, Chardonnay and Sauvignon Blanc are common. The region is also home to some of the finest new-world Champagne method sparkling wines made from Chardonnay and Pinot Noir.
It is the source of only 14% of South Africa's production yet has the highest concentration of leading estates and a thriving wine-tourism industry.
Chenin Blanc
Chenin Blanc is perhaps one of the world's most versatile grape varieties, used for bone dry, white table wine and sparkling wines right through to some of the longest-lived sweet wines to be found. Broadly speaking, Chenin exhibits floral aromas, crisp green apple flavours and zippy acidity, while in its sweet form one may find wonderfully concentrated honeyed notes.
Its traditional home is in France's Loire Valley where it goes into famous names such as Vouvray and Cremant de Loire, but it has also found a southern Hemisphere territory in South Africa, where it is known locally as 'Steen' and constitutes almost 17% of the country's entire vineyard.