no account? click here.
already a member?
sign in
Wine Type White Wine
Vintage 2011
Style Crisp, Dry Whites
Country France
Region Burgundy
Grower Name Domaine Vrignaud
Grape Variety Chardonnay
ABV 12.5%
Closure Natural Cork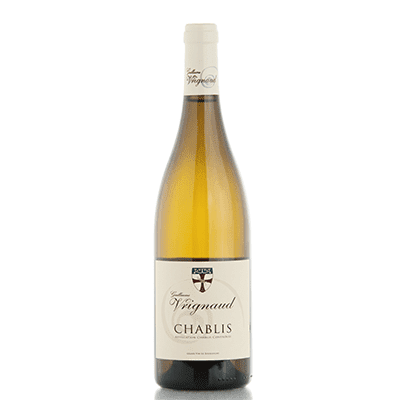 Jascots tasting note...
" A very fruity and expressive example of Chablis, showing ripe, zesty citrus fruits and refreshing, steely minerality on the finish. "
Goes great with...
Roast Chicken, Shellfish & Fish & Seafood
Save £19.20 a case
Wine Details PDF
Why you should buy this wine...
Perfect for fans of textbook, classic Chablis, this wine delivers all the refreshment, zesty fruit and hallmark characteristics of the appellation at an affordable price. Matches well with all kinds of fish, seafood and white meats.
About The Grower Domaine Vrignaud
Domaine Vrignaud
Most of Domaine Vrignaud's vines are located in and around the village of Fontenay-près-Chablis with a small percentage grown in Mont de Milieu. Vines range from 3 to 55 years of age, the oldest being reserved for the estate's vieilles vignes Fourchaume 1er cru. Each plot is worked individually and without recourse to fertilisers, allowing the fullest expression and influence of the Kimmeridgian marl soils. In 2008, the estate invested in brand new state of the art presses, maximising the efficiency of fruit processing. Fermentation takes place in thermo-regulated stainless steel vats, and every plot is vinified separately, allowing the chef de caves to taste each wine before creating the desired blends. All wines undergo malolactic fermentation.
Le Montrachet Vineyard, Burgundy
Burgundy is a region in eastern France famous for its red and white wines made almost exclusively from Pinot Noir and Chardonnay respectively. Sparkling wine, known as Crômant de Bourgogne, is produced using the traditional method, usually from a blend of these grape varieties.
Vineyards are based on ancient Jurassic Limestone, beginning with the Chalk hills of Chablis and continuing south south-west with a long escarpment forming the famous Côte d'Or. Broadly speaking, the Burgundian climate is continental, which is in direct contrast to that of Bordeaux - winters are noticeably colder and summer days are a little cooler than its famous counterpart.
Arguably Burgundy's greatest wines are produced along the Côte d'Or escarpment, especially those in the Côte de Nuits.
Chardonnay
Chardonnay is arguably the best known and most versatile white grape variety in the wine world. Its traditional homeland is that of Burgundy, where it is responsible for such names as Chablis, Meursault and Puligny-Montrachet to name but a few, but it has also found success in almost every wine-producing region the world over - partly due to its versatility, used as it is as a varietal wine, in blends and as a key ingredient of many sparkling wines.
The vine itself produces relatively high-yields and is very hardy. Wines made from chardonnay tend to have high acidity and ripe apple and citrus flavours and offer value at every price point. It lends itself well to oak treatment, and the best examples of high-quality Chardonnay can age and develop over many years.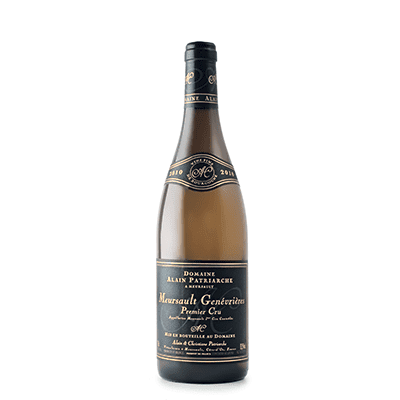 Jascots tasting note...
" Domaine Patriarche's fabulous offering from this premier cru vineyard in Meursault has a wonderfully deep, rounded nose showing notes of hazelnuts, oatmeal and green fruits... "
Goes great with...
Fish & Shellfish, Roast Lamb & Roast Chicken
Click For More Info
Save £83.40 a case