no account? click here.
already a member?
sign in
" As with all of G?rard?s wines, there is a definite sense of velvet to the texture of this wine, yet it also holds impressive power and an awe-inspiring deliciousness of rich, ripe, sumptuous fruit. "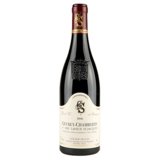 Export to PDF
food & wine matching... Roast Beef / Steak, Game & Venison & Roast Pork
Red
Save £52.20 a case
Medium Bodied
Wine Type... Red WineVintage... 2007Style... Medium Bodied RedsCountry... FranceRegion... BurgundySub Region... Côte de NuitsGrower Name... Gérard SeguinGrape Variety... Pinot NoirABV... 15%Closure... Natural Cork
Gérard Seguin
By 1850, Alexis Seguin owned a small area of vines in Gevrey Chambertin. He was able to develop his vineyard holding during the phylloxera crisis, as he was a pioneer in Burgundy with the use of resistant American rootstocks onto which his vines were grafted.In the 1920s, the vineyard was split between his three children, Aristide, Blanche and Hippolyte. From 1950, Hippolyte?s son Pierre began buying vineyards and was largely responsible for the reconstruction of the area. He built a new cellar for the winery, which was completed in 1960.
In 1973, construction began of a new winery adjacent to the first, and new premises to house the wines enlarged the area. In 1977, Gérard, son of Pierre became involved in the operation and bought his first vineyard in the hamlet "Reniard". This coincided with the decision to start selling bottled wine under the domaine?s own name, rather than selling via a cooperative.
Since the death of his father in 1990, Gérard has continued to expand and modernize operations: in 1991, new accommodation was built, including a tasting room that allows the development of the sales in bottles. In 1995, Chantal, Gérard?s wife joined the domaine to assist it in the many administrative and marketing business of the winery and vineyard.
In 2006, Jerome, son of Chantal and Gérard finished his studies in viticulture oenology at Beaune and joined his parents? operation.Today, the estate operates 6 hectares planted with Pinot Noir and exports 50% of its production.
Burgundy
Burgundy is a region in eastern France famous for its red and white wines made almost exclusively from Pinot Noir and Chardonnay respectively. Sparkling wine, known as Crémant de Bourgogne, is produced using the traditional method, usually from a blend of these grape varieties.
Vineyards are based on ancient Jurassic Limestone, beginning with the Chalk hills of Chablis and continuing south south-west with a long escarpment forming the famous Côte d'Or. Broadly speaking, the Burgundian climate is continental, which is in direct contrast to that of Bordeaux - winters are noticeably colder and summer days are a little cooler than its famous counterpart.
Arguably Burgundy's greatest wines are produced along the Côte d'Or escarpment, especially those in the Côte de Nuits.
Pinot Noir
Pinot Noir is the grape variety used in all quality red wines from Burgundy, and as a varietal wine in several parts of the New World, most notably New Zealand, California and Chile. It is also one of the three grape varieties commonly used in the production of Champagne and other traditional method sparkling wines of the world, either as a 100% blancs de noirs or (more commonly) as part of the traditional Champagne blend.
Pinot Noir is somewhat temperamental and, unlike Cabernet Sauvignon, can only flourish in certain conditions and when afforded the utmost care on the part of vine-grower and wine-maker alike. Relatively, thin-skinned, the grapes produce red wines of lower tannins, lighter colour and great charm and delicacy which evolve comparatively quickly, although the very best examples are slow to fade.