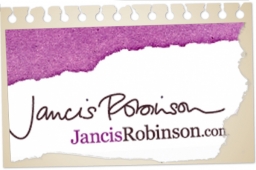 Jancis Robinson - Some very superior stuff
Wine Website of the Year, www.jancisrobinson.com article featuring a selection of Jascots' wines...
The well over 200 wines described below include some of best finds we have had the pleasure of tasting in the last few weeks - mostly imported into the UK by some of the country's most fastidious importers. They are not cheap but most are real insider's wine and, even if you don't ever taste any of them, they represent some of the more interesting corners of the wine world. Feast your eyes if not your palate...
White
Jean-Marie Haag Pinot Blanc 2009 Alsace 16.5 Drink 2010-2011
Owned by husband and wife team Myriam and Jean-Marie Haag since 1982 (and started by Jean-Marie's grandfather in the 1930s), this six-hectare estate is based in Soultzmatt, 20 km south of Colmar, in the Vallée Noble. Really quite opulent for this variety. Very rich indeed. What a charmer! Because there is lovely tension too. Really exciting. But I would drink it sooner rather than later. A little spicy. Enough acidity. But only just. It is not that concentrated but for a Pinot Blanc it is quite exceptional. 13%¨. £10.95
Romain Bouchard, Vau de Vey 2008 Chablis 17 Drink 2011-2017
29-year-old vines, in organic conversion since 2007. Whole-bunch pressing, transfer by gravity Settling of must for 18 hours, indigenous yeast, fermentation in stainless steel (70%) at 19-20°C and 30% in French oak. Maturation on fine lees with pumping over and occasional stirring during 11 months. Wonderfully informative but not wordy back label. Lovely textbook Chablis sliding into its middle period. Very salivatory. Great precision and acidity. Liquefied stony cool Chardonnay. Very impressive. For lovers of classicism. 12.5%. £20.20
Dom de la Chapelle, Hors Classe 2009 Pouilly-Fuissé 17 Drink 2011-2014
This is Domaine de la Chapelle's top cuvée, made from the best barrels of Vieilles Vignes. Hand-picked in two passages through the vineyards, with pneumatic pressing, long, cool fermentation (thermoregulation in barrels), no pumping, the wine spends six months on fine lees, and 50% is aged in new barrels. Catherine and Pascal Rollet leased this estate from 1982, but recently bought it outright. They have 3.8 ha of vineyards in Pouilly-Fuissé, and the average age of vines is 57 years.
Lightly floral nose - not desperately expressive aromatically but with great honeyed/blossomy concentration on the palate. A pretty wine with many a botanical on the palate. Lovely delicate texture. Neat finish and no great hurry to drink. Quite long. Very French. (Not a tasting note I think I have ever written before, but this could not have come from anywhere else.) Still very slightly chewy. 13.5%. £19.95
Roveglia 2010 Lugana 16 Drink 2011-2012
Made from 100% Trebbiano di Lugana, soft pressed and fermented in stainless steel, then kept on fine lees until the end of October. It is bottled in February and released for sale after two months in bottle. Established in the 1930s, Tenuta Roveglia is situated at the southern end of Lake Garda. A bitter almond note. Correct and clean with an off-dry impression. Perfectly fine with a little bit of tension - oddly reminiscent of the same (Jascots') buyer's Alsace Pinot Blanc 2009. 12.5%. £9.95
Viña La Roncière, Mousai Sauvignon Blanc 2010 Casablanca Valley 16 Drink 2011-2012
100% Sauvignon Blanc from La Roncière's vineyards in the Casablanca Valley, cool-fermented and unoaked. La Roncière seems to have adopted the Relais & Châteaux logo. Are they related? Tense and even a little bit of spritz. Just a tiny bit of apparent sweetness but impressive on the palate. Very refreshing and convincing on the palate. The nose is not quite as convincing to me, light asparagus with just a tiny metallic note. 13.5%. £8.95
Red
Ch Grange Cochard, Les Charmes 2009 Morgon 16+ Drink 2012-2016
Grange Cochard is a six-hectare estate in Morgon, owned by James and Sarah Wilding, who bought it in 2008. Les Charmes is a clay-based vineyard, making a soft, generous style. Very dark crimson. Quite concentrated and smoky. I have a horrid feeling that if I were served this blind I would not immediately place it correctly; it seems just a little rigid and concentrated and self-conscious. I wouldn't mind it being just a little more open and relaxed on the palate. But maybe it will finally reveal wonders? 13.5%
£15.50 Jascots
Dom Bachey-Legros, Les Fourneaux Vieilles Vignes Premier Cru 2008 Santenay 17.5 Drink 2010-2014
Domaine Bachey-Legros consists of 18 hectares of vineyards mainly in Santenay, with some in neighbouring Chassagne-Montrachet and Maranges. They have a very high proportion of old vines, and when they say old, they mean it - those in Les Fourneaux (part of Clos Rousseau, at the south-eastern end of the village) were planted in 1914. The wine is aged in 50% new oak. Mid ruby. Liquorice and direction. Lovely freshness. Racy and with an undertow. Strong struck-match character (which I love) but beware if what you seek is sweet, concentrated fruit. Dry but appetising finish. GV £21.25
La Paix, Vieilles Vignes Carignan 2010 IGP Pays d'Oc 16 Drink 2011
Made from parcels of old-vine Carignan situated around Cruzy near St-Chinian, conventionally vinified and completely unoaked. Jascots claim it's probably the best-value red on their list. I would add that the back label claims that the vines are 40 years old. And that the bottler appears to be UCC 34360 - the St-Chinian co-op, I assume. Posh-looking bottle with a screwcap. Fresh and rich and admirably smooth. Hardly any of the rank tartness of many a Carignan. Vinification beautifully mastered. Excellent house wine - even if it doesn't exactly linger on the palate, all that it does before saying goodbye is admirable. 12.5%. £6.95
Valserrano La Marquesa, Finca Monteviejo 2006 Rioja 16.5 Drink 2010-2014
This wine is produced from a single vineyard planted in 1948, consisting mainly of Tempranillo, with a combined 5% of Garnacha and Graciano. Fermented in stainless steel at 28-20°C, with a 20-day maceration, followed by malolactic and ageing for 18 months in new French oak barrels. Very dark crimson indeed. Some of the mashed strawberries on the nose that are typical of old rioja. Very sweet start with a bit of luscious treacle and pure hedonism on the palate. I suspect this, like the Daily Mail, is appealing to my baser instincts, but I'm enjoying it I'm afraid. It may not make old bones but it will woo you now. 15%. £19.95
Bellvale Wine, Quercus Vineyard Pinot Noir 2008 Gippsland 16 Drink 2010-2012
John Ellis, a former airline pilot, established Bellvale after spending a great deal of time in Burgundy, and has done his best to employ burgundian techniques throughout the production process. This includes a planting density as high as the size of his tractor will allow (7,150 per hectare) all the way through to using French oak barriques (a third new) for maturation. He has ten different clones planted, and ferments in small batches, with a small proportion of stalks added to the ferment, using pigeage. Very pale ruby. Coffee notes. Light and correct but just lacks a little bit of freshness. A tiny bit of tired-fruit character. One to watch? £17.80