Mulled Wine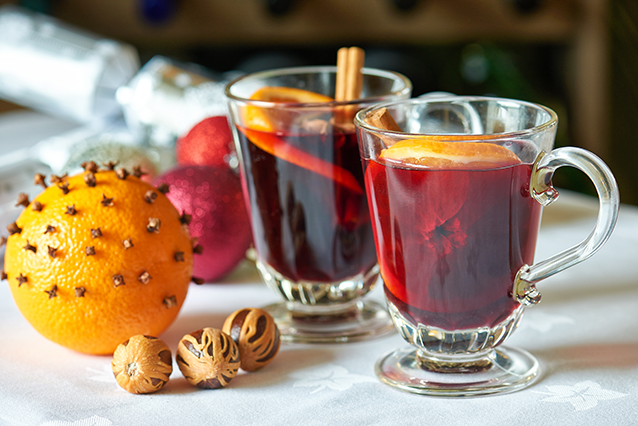 There is nothing quite so comforting as the sweet spice and citrus scents of a warm mulled wine during the chilly winter months. We've dusted down our favourite mulled wine recipes and put together our top tips for serving one of this season's favourite festive tipples. 
Our top red wines for the base: Spinnaker Red from South Africa and Mas de la Source Red from the South of France (now also available in Bag-in-Box for added convenience). While the vibrancy and earthiness of the Spinnaker shines through, the Mas de la Source wine displays a more subtle vivid fruit character. With citrus, sugar and spices, both make a fantastic base for your mulled wine!
The theatre of the mulling spices and orange quarters- which make great props around the serving dish is a wonderful sales enhancer,but for those who need a quick and easy service option, you may also try our preferred pre-mixed option- Maple Leaf Mulled Wine. Sweet clove spice, generous finish and surprisingly delicate flavour make this a great option for venues that are fast-moving, and plan to sell larger quantities.
Service & Preparation tips:
Make a syrup base with one bottle of your wine, bring to just before boiling and leave to infuse for as long as possible.  This can be done when the kitchen is quiet, and reheated in a chafing dish during service to avoid creating a bottle neck.
Nearer the time add the remaining bottles and heat gently.  Be careful not to boil off all the alcohol!  We've given our recipe as a guide but check a small quantity of syrup and wine before combining it all together.  A little spices go a long way and you don't need 10x the spices for 10x the wine, but the orange juice and sugar do add a sweet sour tang on the finish and should be scaled up accordingly.
Prepare more than you think you need, you will be surprised by the demand, Any surplus can be used by the kitchen to make jelly for cheese places or syrups for dessert garnish.
Recipe:
Makes about 12 servings2 unwaxed oranges
1 lemon (peel only)
100g white to 50g brown sugar
5 cloves, plus extra for garnish
5 cardamom pods, bruised
1 cinnamon stick
A pinch of freshly grated nutmeg
2 bottles of unoaked red wine
Thumb size piece of fresh ginger
1. In a large saucepan, combine the juice of 1 orange, lemon peel, ginger, sugar and spices. Add just enough water to cover/dissolve sugar.  While stirring, bring to boil and cook for 5 - 8 minutes until you have a thicker syrup*.
2. Turn the heat down, and add remaining wine. Serve warmed with slice of clove studded orange.
*Syrup may be cooled and used later on.