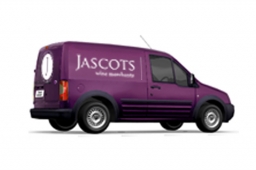 7 Days A Week Delivery
Jascots delivers to all corners of the UK and to many overseas destinations 7 days a week. We also offer a money back guarantee of satisfaction.
Get your trade order to us by 1200 on any Saturday or Sunday and it will be delivered to you the SAME DAY in the afternoon free of charge!!!*
Orders placed after 1600 on Friday or Saturday will be delivered the next morning.
Jascots' telephones are manned by experts 08:00-12:00 every Saturday and 10:00-14:00 every Sunday, in addition to 08:00-18:00 weekdays.
We operate a fleet of our own vans from our warehouse in West London delivering across mainland England. We also use a specialist network of couriers to deliver wine to areas that our vans can't reach, covering the whole of the UK including the Scottish Highlands, Northern Ireland, Anglesey and the Isle of Wight. We also offer an international delivery service to many overseas destinations.†


Get In Touch
If you're interested in finding out more abut Jascots' 7 Day Wine Delivery contact us today.
Telephone 020 8695 2000
Email enquiries@jascots.co.uk
You can Create an account here.
You can Download Jascots' Wine List here.
Open 0800 to 1800 Monday to Friday and 0800 to 1200 on Saturday and Sunday.
*Free of charge service applies to London Trade Clients - extension to clients outside of London depends on traded volumes.
† Overseas deliveries are made by TNT Couriers and are uninsured. Jascots will pack your wines as securely as possible but we cannot be held responsible for any damage caused during transit.