Organic Wine
The word 'organic' is banded around a lot these days; from beauty products to food and now, more increasingly in the world of wine. There was a time not that long ago when quality and value were often compromised for the label which, rightly so, left many sceptical. Thankfully those days are behind us and you can now find delicious, sustainable wines on most lists. At Jascots we pride ourselves on being a green company and are passionate about working with partners who share our values.
What makes a wine organic and why is it so popular?
While some of the finer details differ from country to country, the overriding themes remain the same; A winery is monitored closely over a few years to make sure the vineyard follows the organic certification rules.
No chemicals
No herbicides
No pesticides
Promotion of ecosystem biodiversity
For example, vineyards are encouraged to use grazing sheep to eat weeds rather than chemicals or to plant trees for birds and bats who in turn eat insects eliminating the need of pesticides. Once approved, they continue to be checked to make sure they are sticking to the strict rules. If they are found to be in breach of these, they have to start the whole process again.
The process of becoming organic is a big investment and for many smaller, more boutique winemakers they have to weigh up whether its worth it. As well as taking up a lot of time, it's very expensive for a winery to become certified. It's also important to consider that once certified you can't revert back to using chemicals, so a particularly humid season bringing more insects would make life in the vineyard very difficult without pesticides, often resulting in the loss of many vines. Instead, many winemakers choose a mixture of both practices, only stepping in if they absolutely need to. There are many names for this type of farming but the most well-known is 'lutte raisonnée' or 'the reasoned struggle'.
This just goes to show just how much extra TLC organic wines get from their producers, from vines to the glass. We are so proud to work with such amazing winemakers and can't wait for you to try some of their wines! If this is your first introduction to organic wines, dont worry we have you covered. Click here to see our mixed case will give you a range of 12 different organic wines of all different styles to show you that wines dont need to compromise quality for sustainability.
THE ORGANIC MIXED CASE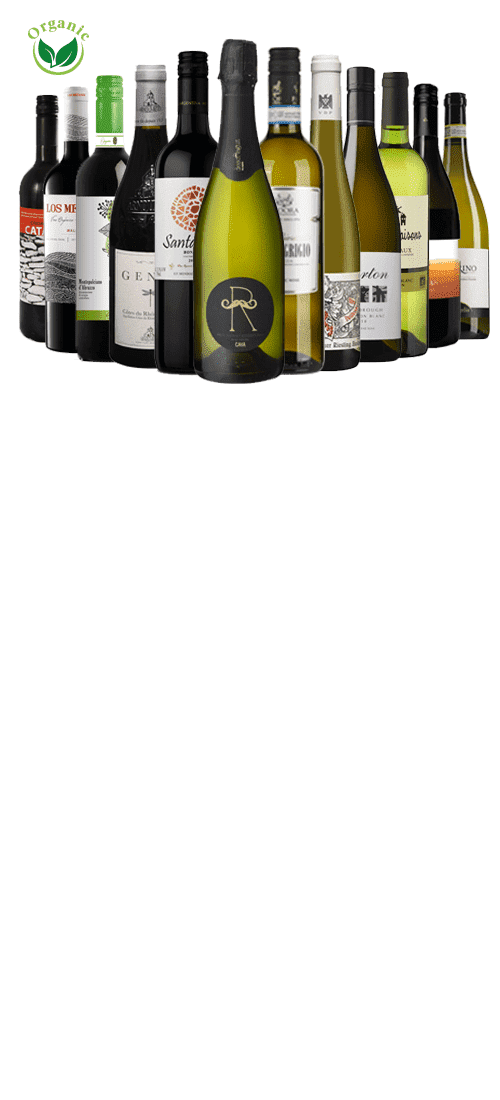 12 delicious organic wines from pioneering sustainable winemakers.
Discover More