In conversation with the Drunken Butler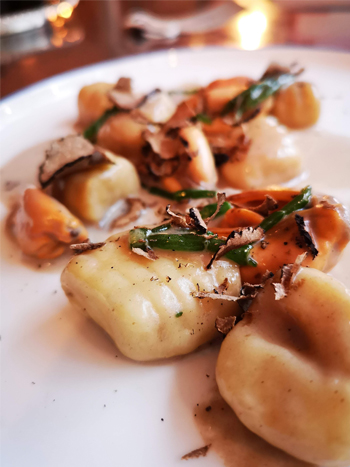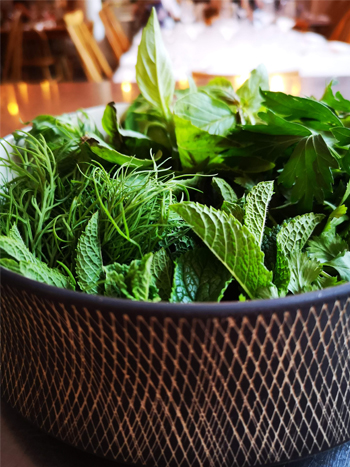 Meeting with Chef Patron Yuma Hashemi, you get a real feeling that this is a person who has poured his heart and soul into his first solo restaurant in Clerkenwell. Having opened just shy of a year ago and already awarded a Michelin Plate, The Drunken Butler serves up high-end French cuisine with Persian influences.
The setting is inviting and comfortable with a large marble chef's table and an open kitchen that invites guests in behind the scenes. There are charming vintage features throughout and it feels as if every detail has been overseen by the man himself.
Passionate, talented, and serious are just a few of the words that spring to mind after our meeting. We talk about his journey as a chef, his food & wine philosophy and his interpretation of a Persian feast....
What made you become a chef? I became a chef by total coincidence. I was advised to join a cookery school and when I went to apply the program was full. But then by chance, someone dropped out and I was able to get a placement. I went into an apprenticeship and when I was introduced to the Larousse Gastronomique, I began to take it very seriously. One night, at the restaurant I was working at, I was introduced to a 2-starred Michelin chef and he said to me ''At my restaurant, every night is like a world championship final. Every night you start fresh and you can't rely on your position. You need to go for the win daily.''
This had a big impact on my philosophy, to treat every day independently. But to this day, I still don't feel like a chef. In all the restaurants I have worked in, people would shout, they would make you cry, they would curse, and the staff were depressed. I never felt part of this school of thought. I like my time to myself in the kitchen but I need my team behind me. I need them focused and sharp, not depressed.
Your journey to London began in Berlin with stints in quite a few countries, tell me about that…After my apprenticeship in Berlin I moved to Sweden, then bounced to San Francisco, and then ended up in Bordeaux for 8 years where I worked in the Michelin starred restaurant The Gravelier. It gave me room to explore and develop as a chef. In the beginning it was refreshing, I would meet amazing winemakers and cook for them which took it to a whole different level. The wine experience really became real. Where in Berlin I worked with top sommeliers and we would only talk about wine, in France we would discuss a wine and open the bottle! I worked 15 hours a day, but it felt like a long holiday. London just kind of happened. My mom used to live in London and in a way I followed her footsteps.
Tell me about the concept behind The Drunken Butler…We offer short description tasting menus. The idea is to go out and not be overwhelmed by choices. I want guests to feel like they are at home. When you arrive we will ask you if you have any allergies or if there is anything that you do not like. After that we want you to lay back and let us create an experience for you. Our food is French with Persian influences and we focus on small producers, seasonal products, but most importantly we want our guests to be relaxed.
ميهمانى
and your Persian Sundays… Persian Sundays are completely different. Where the tasting menus are smaller portions with wine pairings, on Sundays it is more like a traditional feast. In Farsi we call it Mehmooni which basically translates to dinner party. It's like when you go to your grandmother's house and she cooks for you, you don't get to order, you happily get what you are given. However, Iranian grandmothers don't just cook one or two dishes, they serve you a feast. Usually you start with a few cold dishes followed by four or five warm dishes and it is all about sharing. It is a gathering for friends and family who share food together but in this case you sit around the chef's table and I serve you as if you were family. It is meant to be initmate and inviting.
''For Iranians a day without rice is a sad day.''
What's your favourite dish on your menu right now? My favourite dish is the scallop on our tasting menu. I have a shellfish allergy (which is one of my many allergies actually) but this dish is my favourite because when people look at it I can see that they are wowed with it. There are many textures at play like the crispiness of the squid ink crisp, the popping of the trout roe, the crunch of the foraged samphire and the delicate flavour of the pan fried scallop - it really embodies the locality and simplicity of cooking.
What role does wine play for you? Wine pairing is a very important element for us. We try to not only understand the wines and how they pair with the flavours in our dishes but our customers tastes as well. I'm always looking to try to offer them something unique. Natural wines is a big part of it. I love the idea behind it, to let nature run its course.
What are you drinking now? At the moment, I'm really into natural Carignan from the Languedoc, Xarel-lo from Spain, and Beaujolais because it's approachable and delicious. I'm really loving Jascots Bodegas Frontonio Telescópico Carignan, it is elegant and warm, perfect for the duck I serve on my tasting menu.
Click here to find out more about the Drunken Butler