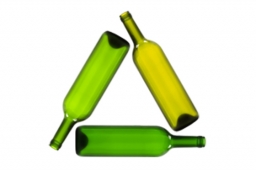 We'll Pick Up & Recycle
Restaurant, Hotel and Caterer specialist wine merchant Jascots will be your "milk man". We are proud to offer our London based trade customers complimentary pick up and recycling of empty wine bottles and boxes when we make a delivery.

Jascots offers assistance with in house recycling by collecting and recycling bottles and glass sold by them from their clients. We aim to reduce consumption of natural resources and increase efficiency for our customers. No bottles or cardboard collected by us go to landfill.
At Jascots, we're not sure why other merchants have not offered something similar to their customers. It seems crazy that vehicles return from a delivery empty when the journey could be put to better use taking glass and cardboard for recycling.
The 'milkman' recycling scheme is offered for:
bottles and boxes that were sold to you by Jascots and where Jascots is your exclusive supplier
bottles that are empty and placed within a serviceable cardboard box
London post codes.
In return for your 'empties' you will be issued a Waste Transfer Note with Waste Transfer Codes EWC03/03/08 and EWC16/01/20 by one of our friendly drivers in accordance with The Environment Agency guidelines.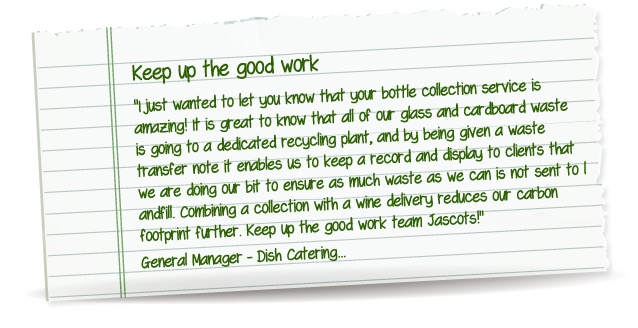 While many businesses recycle glass bottles and cardboard boxes, a large proportion still goes to landfill. The UK currently recycles around 50% of container glass (jars and bottles) so we are far behind other countries such as Switzerland and Finland who recycle more than 90% of their glass. The UK on-trade sector, alone, currently throws away over 600,000 tonnes of glass every year.
Get In Touch
To find out more about our Pick Up & Recycle Scheme contact Jascots.
Telephone 020 8965 2000
Email enquiries@jascots.co.uk
You can Create an account here.
You can Download Jascots' Wine List here.
Open 0800 to 1800 Monday to Friday and 0800 to 1200 on Saturdays.
Green Credentials
As well as the new 'milk man' service, Jascots currently recycles 90% of office waste and has reduced its usage of paper by 25%. For example, the proportion of customers receiving paper invoices has been reduced from 43% to 3% since 2009. Overall Jascots has reduced the volume of its waste going to landfill by 50%.

ISO14001 Award
Jascots was awarded the internationally recognised environmental management system accreditation ISO14001 in October 2011.
Carbon Trust Verified
In 2013 Jascots' carbon footprint was 113.5 tCO2e, as independently verified by the Carbon Trust. This represents a further 10% absolute reduction from 125.9 tCO2e on top of last year's reduction of 16%. Remarkably, this was achieved whilst Jascots' sales were up over 20% year on year delivering a relative per bottle reduction of 26.3%. CO2 that could not be reduced has once again been offset through the purchase of carbon credits.