Jardin de Las Iguales: Ancient Vines Reborn
Fernando Mora MW of Bodegas Frontonio, a Jancis Robinson "one to watch" winemaker, comes to London on 24 February for the UK launch of his long-awaited "Jardin de Las Iguales" wines. With his "Los Frontonios" and "Los Botijos" ranges having already seen widespread recognition, next week's launch is the coming to fruition of his most ambitious project to date.
The 2016 vintage comprises a limited production of just over 2000 bottles of varietal old vine Garnacha and Macabeo combined. These come from an ancient single vineyard known as "El Jardin de Las Iguales" in Zaragoza, North Western Spain. Planted in an inhospitable part of the Barrandijos Valley of Sierra de Algairen, and owned by the Los Paseta family for a century, this unique vineyard consists of just 2 hectares of 97-year-old vines. All but destined for destruction, Fernando and his team acquired the land, and with the same meticulous, low-intervention approach that has defined all of Bodegas Frontonio's offerings so far, restored this small but exceptional vineyard to its former glory.
Even before their UK launch, the wines of El Jardin de Las Iguales have made quite an impression. Luis Guittierez of the Wine Advocate marked the 2016 Macabeo and Garnacha 94 and 95/100 respectively, remarking that "[these wines are] quite unique, they have discovered something really important here", whilst Jancis Robinson talks of the wines as being "…extremely dramatic with so much personality…..really fine." With praise like this, it doesn't seem hyperbolic to suggest that Fernando's El Jardin de Las Iguales wines are destined to become future icons.
A former engineer with zero experience in winemaking, in the course of just a decade Fernando Mora has gone from making his very first batch of wine in a bathtub to producing some of the most exciting Garnacha and Macabeo wines to come out of Spain yet. The young MW has certainly had a stellar decade; but with next week's El Jardin de Las Iguales launch approaching, it is clear that his star is still very much on the rise.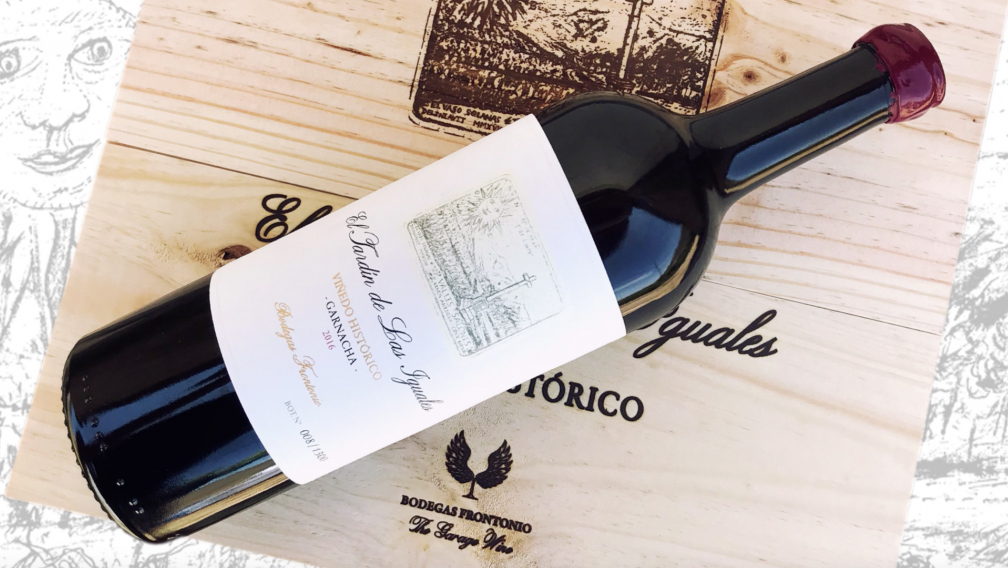 See what the critics have to say:
2016 Frontonio • El Jardín de las Iguales Garnacha 95/100 - Robert Parker's reviewer Luis Guttierez
The red 2016 El Jardín de las Iguales Garnacha contains 10% white Macabeo grapes and fermented in a 1,000-liter oak vat with 40% stems and indigenous yeasts. It matured in French oak barriques. This has a different profile, subtler, with great perfume, an herbal side, spicy and floral, with some citrus-like freshness. It's extremely elegant and vibrant, yet shows restraint, a wine that really transported me to the vineyard where these old vines grow, showing it has a true sense of place. It's quite unique, coming from a zone (Alpartir), where the old timers considered the best wines from the zone, to be produced. I think they have discovered something really important here. I previewed the 2017 and even the fermenting 2018, and the wines show a common thread. 1,250 bottles were filled in January 2018.
2016 Frontonio • El Jardín de las Iguales Macabeo 94/100 - Robert Parker's reviewer Luis Guttierez
The white 2016 El Jardín de las Iguales Macabeo was produced with grapes from a vineyard planted in 1890 on slate soils. It fermented in stainless steel with indigenous yeasts and matured in second use 500-liter oak barrels for a period of ten months. It has great varietal character and lots of complexity, even if it still feels very young. The palate has electric acidity and great depth of flavor, with good weight and is balanced. I also sampled the 2017 from barrel and the wine is very lively, but seeing how the 2016 has improved I think they need time. In fact, this 2016 is not going to be released until the end of 2019 and the 2017 should not be sold until the end of 2020. 1,485 bottles were filled in January 2018.
Frontonio, El Jardín de las Iguales 2016 Garnacha Vino de España 18.5 - Jancis Robinson
This is a recovery wine by Fernando Mora MW who has discovered and recuperated a super spot in Alistro, a small town on the border between Cariñena and Valdejalón (Aragón), at 700 m above sea level, with old vines planted between 1895 and 1925 in slate soils. The project has also restored and rebuilt a really old cellar where the wine is produced. A total of 1,300 bottles is produced from this already sought-after Spanish 'grand cru'. 2016 is the first vintage of this promising wine. Very fine, offering a good energy and a lot of flavour. An almost perfect texture: it has freshness, acidity, juiciness and, above all, delicacy. On the nose it's a bit shy, but it has a very stylish delineation. Very nice acidity. It is light and mouth-watering. Very fine. What a promising wine! The acidity is totally out of context and definitely it is not typically Spanish. But it is not about greenness. Great job on the palate. Wood? It hardly shows it. A wine far away from the power that is supposed to appear in a wine from Aragón. Very seductive, delicate but full of Garnacha flavours. (FC)
Fernando will be in London on the week of 24th February for the UK launch of El Jardin de Las Iguales, and will be showing his Bodegas Frontonio range at Vinateros on 25th Feb. Please contact marketing@jascots.co.uk with any enquiries.
View Spain's New Iconic Wines